- If you are a business owner
What we look for in a business

Honest and capable management team: We look for management team with integrity and a proven track record. We prefer to invest in family-owned businesses as these businesses are often prudently run with the long term interest of stakeholders in mind.
A market segment with growth potential: We look for businesses operating in a sector with significant potential for growth as a result of technological, social and demographic changes. We also like businesses with a regional presence.
Proprietary know-how, technology, distribution channel and strong branding: While no business is perfect, we look for companies with a competitive advantage in technology, distribution channel, branding or even unique insights into consumer behaviour.
Agility and adaptability: We look for companies that demonstrate an ability to innovate new products, services and distribution channels in response to changing customer behaviours and environment.
What we bring to the table
While we do not exclude making controlling investments, our focus on minority deals means that the existing owner and management team will still be in the driving seat post-investment.

We are much more than a provider of capital. Our team brings operational capabilities, strategic vision, finance expertise, talent recruitment and best practice governance to investee companies. These are ingredients vital for companies to transition from founder-dependent to being professionally run and equipped to grow internationally.

Together with the entrepreneur, we seek to build sustainable value for our portfolio companies over the long run.
The investment process
The steps of the investment process are as follows :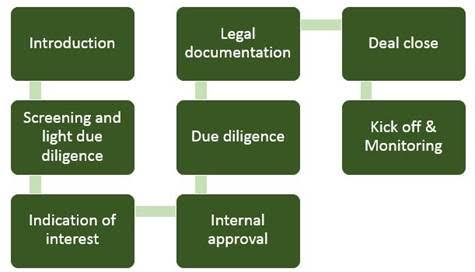 Introduction: Initial contact with entrepreneur/business owner and signing of Non-Disclosure Agreement
Screening and light due diligence: By requesting a limited amount of information, we determine whether or not a company fits our investment criteria. It is also beneficial for you not to spend too much time with a firm that will ultimately not make an offer.
Indication of interest: If things progress smoothly, we propose an initial valuation and draft the Term Sheet for the owner's review.
Internal approval: We seek approval from our Investment Committee to negotiate and make a formal offer.
Final due diligence: We appoint professional services firms to conduct confirmatory due diligence on the business. ESG matters will be identified at this stage for discussions with the management team.
Legal documentation: We negotiate and finalise the legal documentation with the owner. Based on the due diligence report, we agree with management a 100-day plan and also a 3-5 year business plan to align on strategy.
Deal close: The investment documents are signed and the funds are transferred to the company or owner's account.
Kick-off & Monitoring: We introduce the wider investment team to the management. We then monitor the performance of our investee companies regularly.
Size of Investment
RM20 million and above.

Timeline
The duration from the initial meeting to the drawdown of funds will be 2 to 3 months, depending on the availability of information on the business.

Confidentiality
All discussions with us will be strictly private and confidential.
- Contact us
If you think we will be a good fit for your fund or business, please write to us. We would love to hear from you.
Our Location
COPE Private Equity Sdn Bhd
Office Suite 1, Level 8, Ilham Tower, No 8, Jalan Binjai, 50450 Kuala Lumpur, Malaysia.
- Write to us